It is time for the holidays when you started getting ready to decorate, pulling down those containers and boxes that we have been storing for the last 12 months or so.
But before you bring those containers into your home, let's make sure there is nothing hiding inside.
Must Read :SQUIRREL PEST CONTROL
Boxes stored in your attic, basements, and garages are ideal homes for all types of pests.
Here are a couple of tips to keep your holidays pest free.
We recommend that you bring all the boxes outside and check for signs of a problem.
Because your holiday boxes might contain spiders, we recommend unpacking and opening them with a pair of gloves and maybe even a bug spray handy.
You don't want to get a spider bite!
Think about upgrading to plastic sealed containers when it is time to put them up at the end of the holiday season.
To prevent most stored invaders, keeping your home pest free and protected all year is important.  Good general preventative pest control service can help and keep your holidays pest free.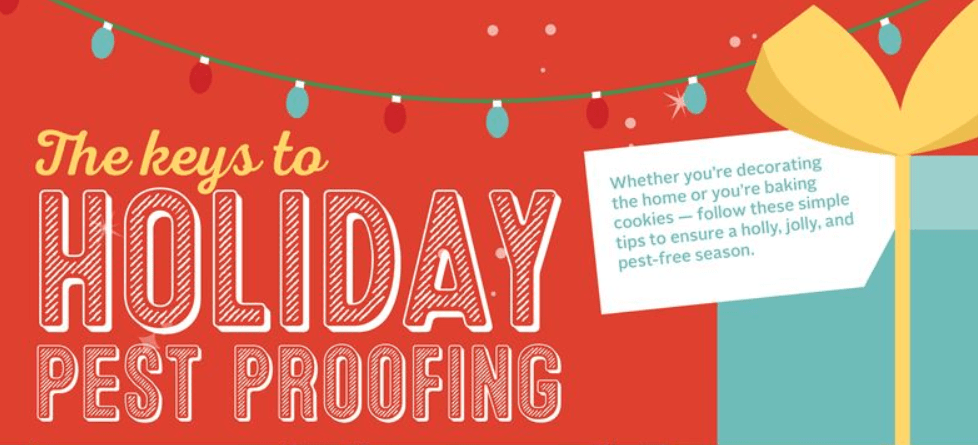 Items to Inspect This Holiday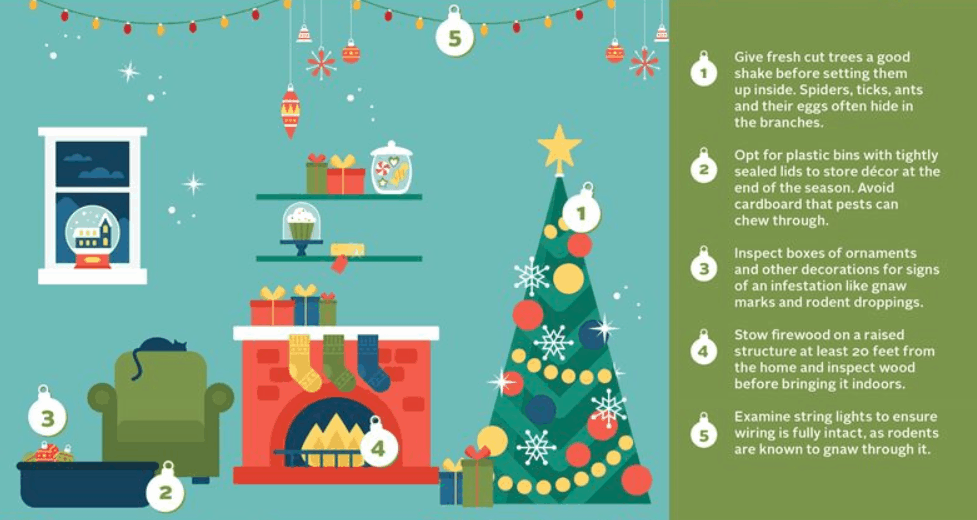 Give fresh cut trees a good shake before setting them inside.  Spiders, ticks, and ants and their eggs often hide in the branches.
Opt for plastic bins with tightly sealed lids to store decor at the end of the season.  Avoid carboard that pests can chew.
Inspect boxes of ornaments and other decorations for signs of infestation like gnaw marks and rodent droppings.
Store firewood on a raised structure at least 20 feet from the home and inspect wood before bringing it indoors.
Examine string lights to ensure wiring is fully intact, as rodents are known to gnaw through it.
Trees/ Wreaths/Garland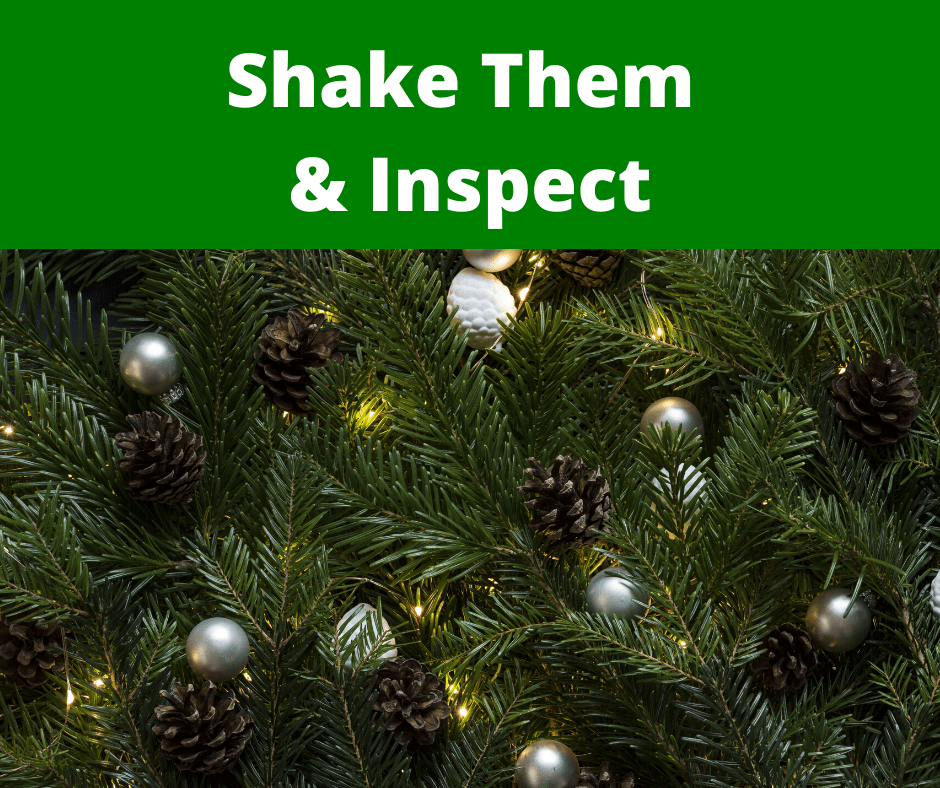 Bringing a live tree or a natural wreath/garland inside?  You will want to shake it off really well to remove any of those common insects such as aphids and beetles that can nest in the live Christmas trees and those lovely smelling holiday garlands and wreaths.
Note that the temperature change inside your home can indicate to the eggs of the pests that spring has sprung, so check them often.
If you are like me and you use artificial trees and garland that has been stored from last year, you will want to perform a similar inspection and a good vacuuming never hurt.
Decorations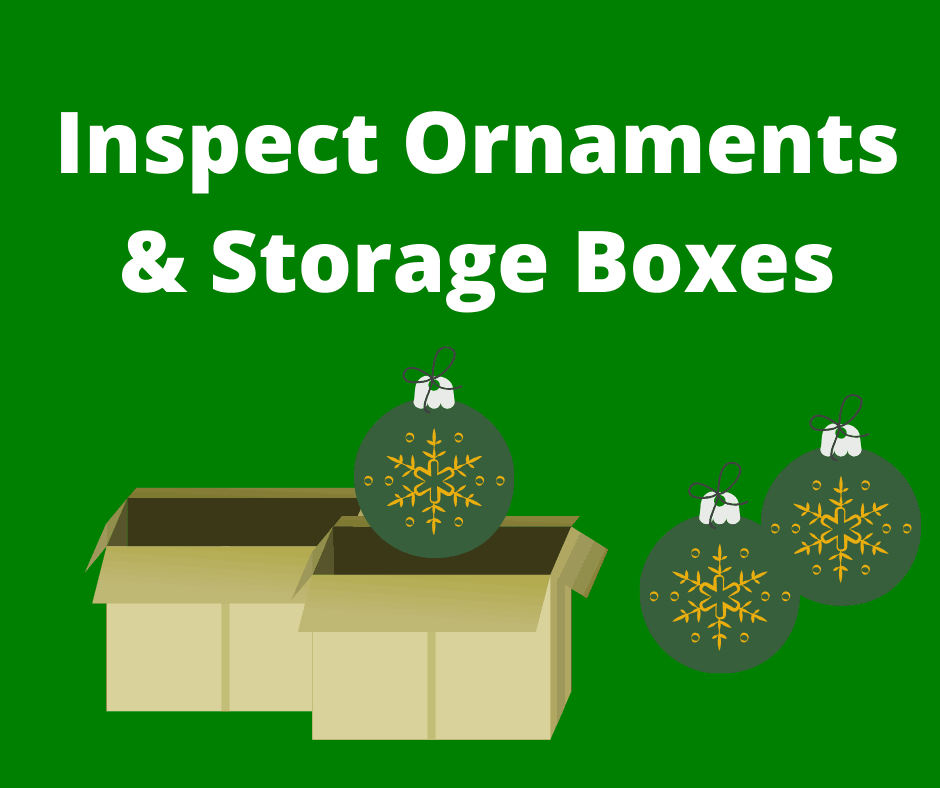 Items stored in cardboard boxes should be thoroughly inspected to spiders, dead insects, droppings and even gnaw marks.  Even plastic containers which are great should get a once over, as we all know we might be good at over packing them and the seal is not perfect.
Cardboard is a perfect habitat for cockroaches and silverfish.
Christmas Lights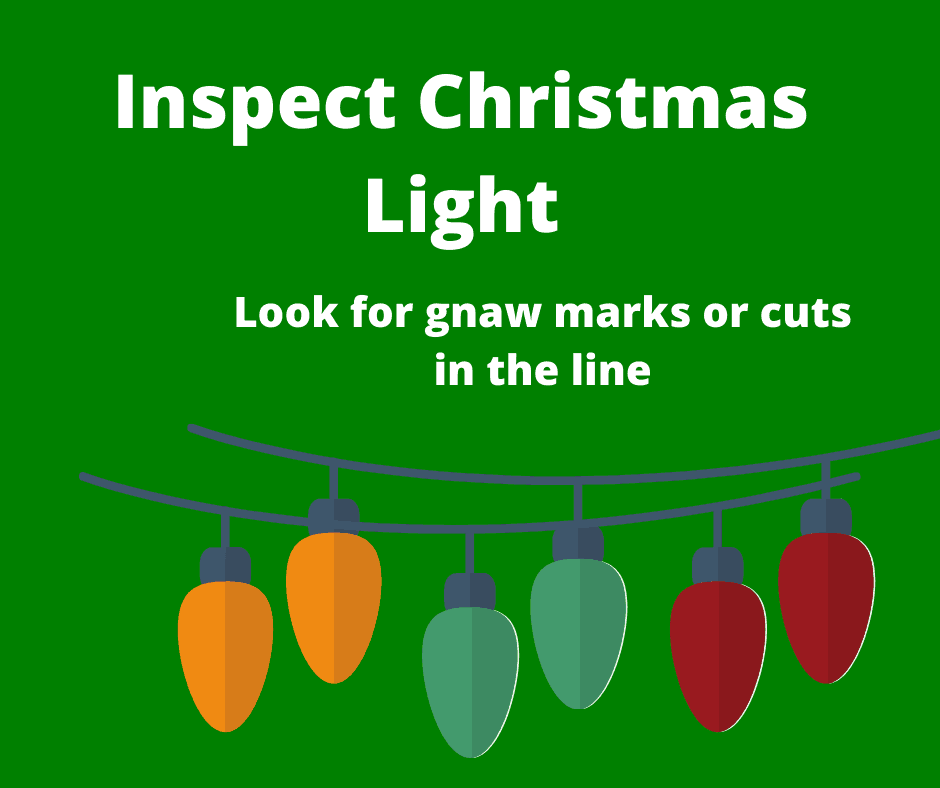 Check you lights for any gnaws are cuts in the electrical line that may have compromised from unwanted guest in your attic or garage.
Fabric Decorations
Might be a good idea to wash or dry clean fabric decorations that have not been stored in an airtight container.  Fabric pests and moths can cause extreme damage to your precious memories, and also if brought into your home contaminate other items.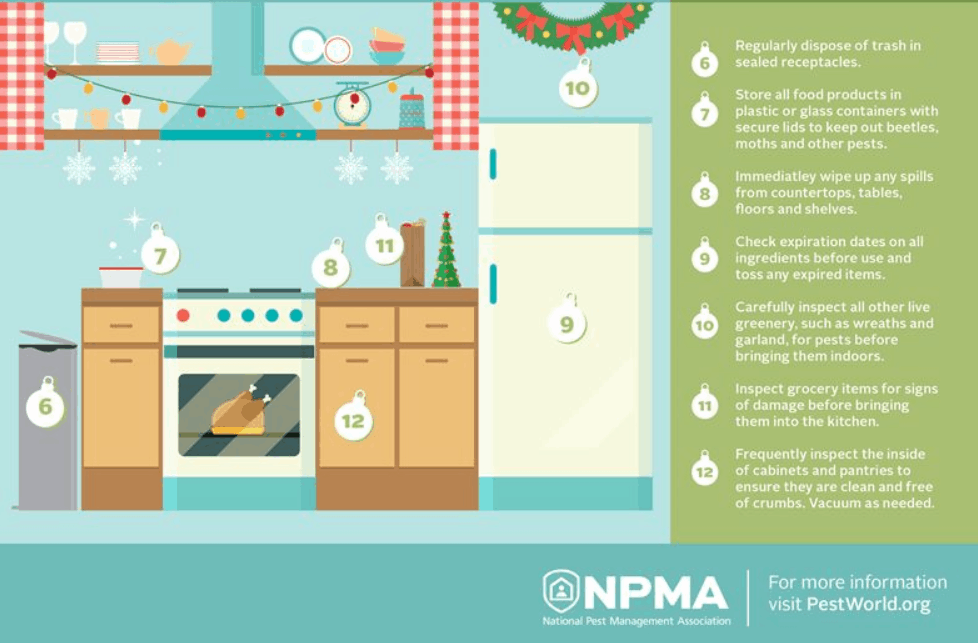 Regularly dispose of garbage
Store all food products in plastic or glass containers with secure lids to keep out beetles, moths and other pests.
Immediately wipe up any spills from countertops, tables, floors and shelves
Check expiration dates on all ingredients before use and toss any expired items
Careful inspect all other live greenery, such as wreaths, and garland, for pests before bringing them indoors.
Inspect grocery items for signs of damage before bringing them into the kitchen,
Frequently inspect the inside of cabinets and pantries to ensure they are clean and free of crumbs.  Vacuum as needed.
Conclusion
We all love the holiday season and all the bright lights and decorations, but spending a little time inspecting all your stored items and living trees and wreath for pest can help prevent a holiday nightmare.  Hope you have a wonderful holiday season and feel free to call FullScope Pest Control if you find your home being invaded this holiday!