The Heritage Museum of Montgomery County
Montgomery County, Texas is a county located in the state of Texas and it comprises the city of Conroe (the county seat) and part of The Woodlands. The construction on the building began in December 2010 and was completed in October 2012. The museum is modeled after the old stave churches found throughout Europe. It sits on seven acres next to Lone Star Monument and Historical Flag Park at 955 Highway 105 West, near I-45 South in Conroe.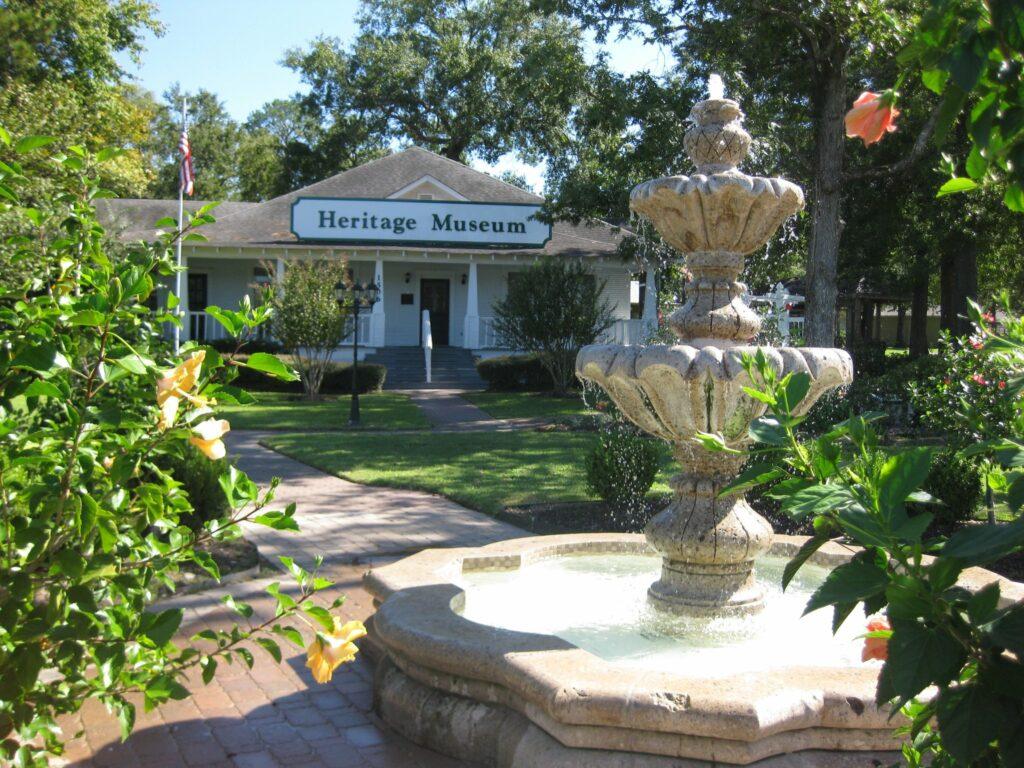 The east side view of the museum with flag park behind it Heritage Museum is an imposing structure that pays tribute to Montgomery County's rich cultural heritage: its Native American history, pioneer settlers, community development and local business concerns who made significant contributions to economic growth and prosperity for all citizens.
The Heritage Museum of Montgomery County building is designed to evoke pleasant memories and to inspire future generations with an appreciation for their heritage. It serves as a fitting memorial to the pioneers who settled this area, cultivated the land, built homes, established churches and schools , forged businesses, industries and civic groups that have created the foundation upon which community life rests. The museum's architecture is based on an 1841 hand-hewn log cabin that was moved several times before it was donated to the City of Conroe in 1972, where it became part of one local attraction or another until its deteriorating condition forced its removal several years later. The City Council requested architects prepare plans based on historical styles found throughout Montgomery County. Construction began in December 2010 at a cost of $13 million. Must read about Crighton Theatre is a live theater in Conroe, Texas.
The Heritage Museum is a two story, 34,000-square-foot building that houses 11 galleries and 1,900 square feet of enclosed function space for receptions, parties or other special events. The design is based on the Old World Norwegian stave church concept with heavy timbers and board and batten construction made from wood harvested from trees at nearby Sawdust Park in Conroe.
Some of the many oil paintings throughout the museum depict Montgomery County's early history from prehistory to Republic days. The Heritage Museum opened its doors to visitors October 24th 2012 with a grand opening ceremony held November 10th 2012