Successfully solving pest problems with do it yourself pest control in Humble, Texas starts with proper identification and an understanding of the biology of the pest you are concerned with.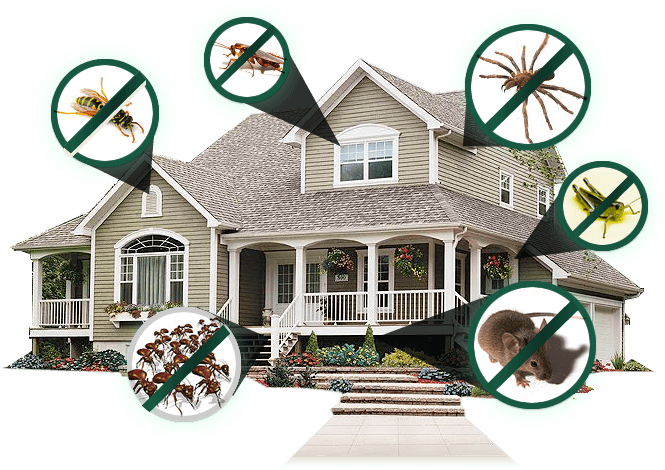 Then, proper timing and placement of the correct material is key. Most of the bug sprays available at your local store do a fine job eliminating the bugs you see, but, how many spiders, ants, or cockroaches are still lurking inside the walls? It has been estimated that for every one you see, there are one hundred (or more) that you do not.
DIY Pest Control Can Be Lax For Homes And Residents
Anyone who saw a bug, went to the store and found a can with a picture that sort of looked like the bug they thought they had, hoping that spraying areas in their home would automatically remove bugs and insects.
Then gradually they realize the safety of all these chemicals around their family; children, and the dogs and other pets. They also learned that, if not used properly, many of these over-the-counter products can actually be hazardous to family and pets. In times like this, it's best to consult a Humble Texas Pest Control specialist.
The Downside of Improperly Using Commercially-bought Insecticides
Nearly 3,000 pets are harmed every year from improper handling of these materials in an effort to self-manage pest problems. Then, there was the sad realization that people still had bugs. Not only that, the spray stopped working. In fact, sometimes the different sprays and powders actually work against one another.
Everyone needs pest control on one level or another, but getting rid of those pests can be tempting to do using sprays. A good Humble Texas Pest Control expert is knowledgeable about these things and one you should trust.
Choosing A Professional Pest Control Company Is Still The Best
Although you can, it might not be your best decision to try to treat these problems yourself. A wiser choice might be to seek professional help from a caring, qualified Humble Texas Pest Control and management professional. We all have different pest management opportunities. If your only tool is a hammer, every problem becomes a nail, so it is wise to ask questions. Be sure the Humble Texas Pest Control company you chose to solve your problems has the knowledge and a variety of tools at their disposal to effectively solve your pest problem.
Do it yourself Pest Control For Humble Texas Residents
You can save money by doing your own pest control, but there are some precautions you will need to take to protect yourself and to know what you are dealing with. First, identify what pests you have.
You can't solve your pest problem if you don't have a clue with whatever is in your home. Research is also needed and find information about the pest to discover the best solutions available to you, including hiring Pest Control Services in Conroe TX.
How Helpful Is The Do It Yourself Method?
There are a lot of helpful and free resources and guides on the internet to help you identify problems, prevention steps and even how to use the products you will need. The second thing you must do involves figuring out what options you have available, and how much needs to be done to fix your problem.
If you only find a couple ants in your kitchen, that doesn't mean that you have to start digging up your foundation, or call an exterminator for Pest Control Services in Conroe TX.
Assessing Your Own Place
If you find out what kind of pest is in your home, you need to investigate and see how much of your home is infested. Does this pest have a nest in your home? Is it from outside? Can baited traps and dust treatment of your perimeter be sufficient? Knowing these facts will help you decide what methods will be the most effective and cost efficient.
The third thing to do involves choosing the best option and doing it. There are a lot of different options for removing pests in and near your home and one of them is consulting a Pest Control Services in Conroe TX.
The situation can vary but you can choose the one that is best for you, your arrangements and time. This involves post evaluation and preparation for any future nuisances. If the methods you chose do not give the results you wished for; (example: the baited traps you set do not attract ants) you should try a liquid trap, preferably of a different brand.
If it works, you can do dust treatments on the perimeter of your house, this will help stop them from coming into your house. Keeping pests from ever entering your home will make pest control easy. Still, having a professional for Pest Control Services in Conroe TX can help you solve your pest issues at home.