Free Mosquito Control Kingwood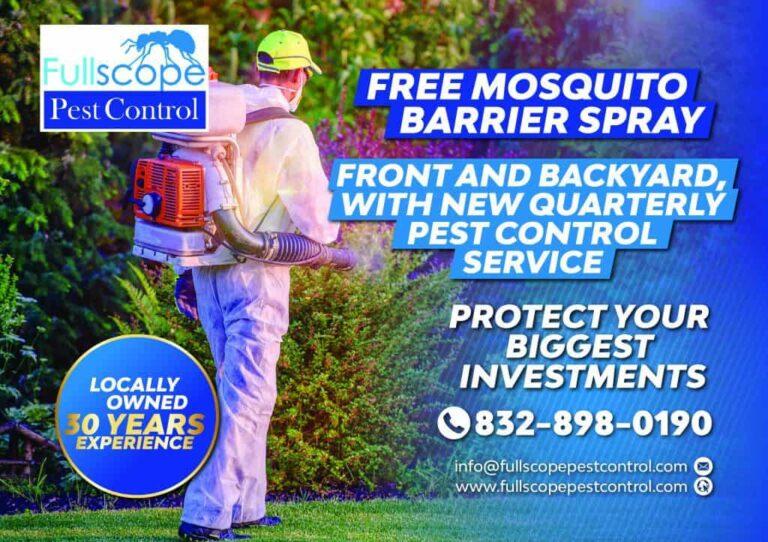 We all love to get something free and what better than a FREE Mosquito Barrier Spray when you sign up for quarterly pest control service.
Why are we offering a free service?
Because we are so positive that you will love the way we do pest control, that we just figured we would throw in a no brainer!
Most people do not get excited about pest control, but we do! FullScope Pest Control and our team have been patient about getting rid of bugs for over 30 years.
Why Should You Trust FullScope with your pest control?
No one knows bugs better than we do!  Staffed with a Mastered Degreed Entomologist, and owned by a leading professional in the industry for the past 30 years, we get it right the first time.
We are professional, our team of service providers treat you the way we would to be treated, with the highest level of professional and respect for our customers opinions.
We will take the time to explain our techniques and findings, it is important to us that you understand exactly what process we are using and expectations of success.
Only then we you the customer is comfortable with our pest prevention and elimination protocol will we move forward.
Not a new technician everytime, a lot of larger companies have excessive employee turnover, not FullScope Pest Control!  Your technician will be with you for the next 30 years if you let us.
So are you ready to try something new, with a better option for pest control?  We think you are and we are willing to bet that if you try our quarterly pest one time,  you will wonder how you got along without us!
Contact Us to Receive Your Free Barrier Spray!
Here are some commonly asked questions about what happens when you call FullScope Pest Control to schedule a service call.
You will speak with a friendly knowledgeable pest consultant, after answer some important pieces of information, you will be given an initial cost estimate and some available dates for your technician to come out for an inspection.
What information will we require from you?
Name

Address

Estimated Size of Home

Particular Pest of Concern

Phone

Email
Pretty simple stuff correct? Once you are placed on the schedule, you will receive a welcome email with the time and date of the service. It will also include all our contact information, and links for preparation of specific treatments, if any are necessary.
In the email you will find links to checkout our reviews on Google, and Facebook.
The day before the scheduled event you will receive a text notification reminding you of your scheduled service.
But if you need to get in touch before then you are more than welcome to email, call or text us.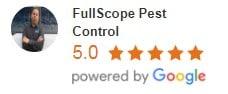 What to Expect the Day of Service:
Initial service date will include a thorough interior and exterior inspection of the home and property. Your technician will require access to the attic, garage and home.
Initial service date will include a thorough interior and exterior inspection of the home and property. Your technician will require access to the attic, garage and home.
Any conducive pest conditions or identification of unknown pest will be noted, reported and discussed with you the homeowner.
Then the service will begin depending on the pest of concern.
How Often Do You Service My Property?
How often will depend on the service type requested, if you are signing up for quarterly service then every 3 months we will be returning the property.
For specialty treatments, such as German Cockroaches, Bed Bugs, and certain types of ants, we will usually return within 7 to 14 days to reinspect and spot treat if necessary.
Rodent or animal work we will return in 4 to 7 days to check traps and remove anything that has been trapped.
What Happens if I Still See Pests After the Service?
We work very hard to insure that our treatment will eliminate the pest in and around your home, but on occasion you might have an issue between quarterly pest service. Simply call and speak with our friendly support staff and usually get your technician out within 24 hours.
Are Our Products Safe for Children and Pets?
Yes, the products we use are safe to use in home with children and pets, we will always follow application guidelines from the product label. Most applications require that it area is allowed to completely dry before reentry and the technician will discuss with you prior to treatment and safety procedures that you should adhere to after application.
How Soon Can You Come Out?
Most of our accounts can be in your service area within 24 hours of calling FullScope Pest Control. We work very hard to meet and exceed your expectations. We understand that these pest can be causing you extreme Stress and we take great pride in our quick response time.